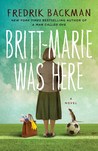 Britt-Marie Was Here by Fredrik Backman
My rating: 5 of 5 stars
Fredrik Backman is quickly becoming one of my favorite authors, and "Britt-Marie Was Here" is another fantastic example of why.
Britt-Marie is a character that was introduced to us in "My Grandmother asked me to Tell You She's Sorry" as a difficult woman who lived in the same building. This story starts where the last book left off for Britt-Marie.
Although many people describe her as a 'nag-bag' who does not have a sense of humor, Britt-Marie is really a very loving, yet very misunderstood woman. Britt-Marie is dealing with the challenges of marital infidelity by her longtime husband, and this motivates Britt-Marie to accept a job in the tiny forgotten town of Borg.
Britt-Marie uses her work ethic and no-nonsense approach to make her way in this very unfamiliar situation. According to Britt-Marie, baking soda can fix almost any problem. This charming story will capture your heart as you realize that there is so much more to Britt-Marie than meets the eye. Britt-Marie is able to face some of her biggest fears and she makes an indelible mark on this small town. The author has a unique style of writing that is direct, but infused with humor, warmth and feeling. I highly recommend this story to anyone who enjoys fiction.
View all my reviews